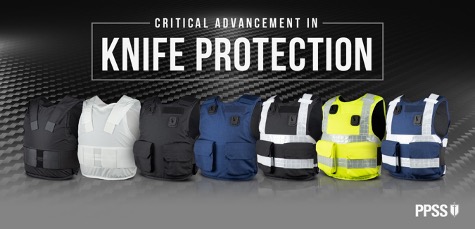 One of our website sponsors, PPSS Group, is replacing its highly acclaimed polycarbonate based stab resistant body armour. More information here PPSS Group Critical Advancement In Knife Protection 2 and on the PPSS website:
Based on our comprehensive understanding of the changes in today's most realistic operational risks and threats, we believe an even stronger and even more dependable raw material was required to effectively safeguard those who protect us, our country and infrastructure.
Its lack of certified spike protection resulted in it simply becoming 'morally' difficult for us. We, at PPSS Group, all agreed that our international friends and customers rightfully demand even higher levels of protection.
After years of R&D and considerable financial investments, we concluded that carbon fibre composites are 'the future', and the only real reliable and forward-thinking long term solution.
Carbon fibre offers far superior levels of stab protection alongside substantial weight reduction and reduced thickness,and finally also fully certified spike protection… at an even better price.
It offers thoroughly field-tested and dependable protection from even the most horrendous looking knives, machetes, razor blades, shanks and indeed spikes.