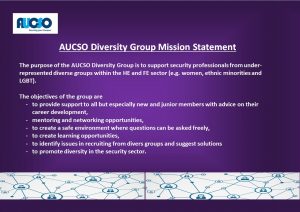 Membership of the Diversity Group is aimed at security officers, control room operators, supervisors, team leaders, advisors and managers from diverse groups (specifically women, ethnic minorities and LGBT). Members can join and attend the group quarterly meetings (held at different venues) and can also join the Diversity Group mailing list which provides a platform for information sharing and seeking answers to specific questions on diversity.
Benefits of joining the diversity group:
Networking with like minded people
Meeting colleagues in person from different Universities, or join a meeting conference call (skype)
Development – share good practice and receive advice on areas of concern or for career development
Mentoring – receive mentoring from one of our expert managers in areas of General management, Security operations, Security systems, Crime prevention, Business continuity, Emergency response
Please contact us/send enquiries to:
Minutes and documents shared within the Diversity Group can be found in the Members area / Resources / Diversity Group.