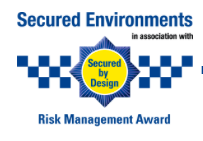 About Secured Environments
Secured Environments is a police accreditation that was established in 2007 and is awarded by the police to organisations that have demonstrated effective management measures to protect their premises and workforce from criminal activities. The most attractive feature of the accreditation is that it is 'doable'; it is up to universities to show how they meet the criteria and they can do that as is appropriate.
The process involves an independent audit, where universities are required to show how they meet six key principles, which are:
Commitment (leadership supports the security function)
Understand (the university understands its threats)
Develop (an appropriate response
)
Manage (the response effectively)
Implement (solutions effectively)
Evaluate (keep monitoring threats and responses to ensure effectiveness)
At the present time four universities have obtained the award. On receiving the award for the fourth time, Brian Schofield, Head of Security Services at the University of Bath noted:
"The importance of audits cannot be over emphasised, they allow an independent professional auditor to examine closely the practices and procedures within an organisation, to comment, praise and critique areas in an unbiased manner; this allows the organisation to celebrate successes as well as address identified shortfalls and thus continually improve; in addition it allows for bench-marking across a sector or against similar organisations.
The benefits include:
It shows a commitment to staff, students and others that the university takes crime and security seriously
It recognises the importance students and staff place on security
It provides and independent review of security processes
Increase efficiency of existing security measures
Save money by reducing inefficient security costs
Recognise the good work undertaken by staff in relation to securing the organisation
A police certificate to show effectiveness
Secured Environments logo on all marketing material
More information, including questions and answers, details about how to register, and the audit process available here: www.securedenvironments.com