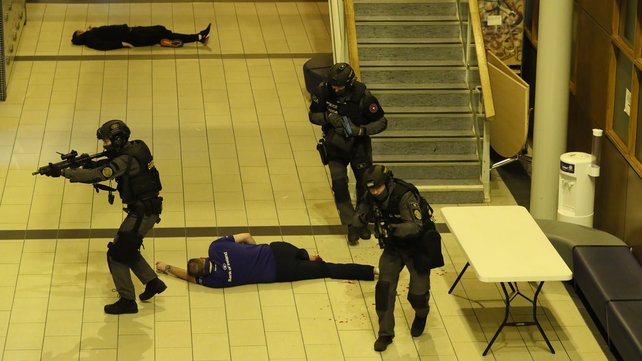 A major emergency training exercise, simulating a terrorist attack, has taken place in Dublin.
The scenario was centred on three men, who attacked by-standers on campus. It was the first time the Primary Response Agencies took part in a joint exercise, including Gardaí, the National Ambulance Service, Dublin Fire Brigade and the Defence Forces. As part of the 'Operation Barracuda' simulation, a car knocked a number of people down as it entered Dublin City University but as emergency services arrived, what appeared to be a traffic collision, quickly escalated into a mock terrorist attack. Three men, who abandoned the car, attacked by-standers with knives and opened fire.
After a shoot-out with gardaí, the assailants entered a building, attacked more people, and took others hostage in a classroom. The Armed Response Unit and Emergency Response Unit pursued the assailants inside the building and used specialised technology to survey the scene, while a trained negotiator interacted with the terrorists. Eventually the classroom was stormed by gardaí, the hostages were freed and the incident ended.
Gardaí say the objective of the exercise was to test the responses and interoperability of the agencies. The exercise will now be evaluated, with further simulated scenarios planned, to prepare for a real life event should it ever occur in Ireland.  See a short video here and the RTE report.
We look forward to hearing more about the exercise later from our colleague Ray Wheatley, Security Services Manager at DCU.