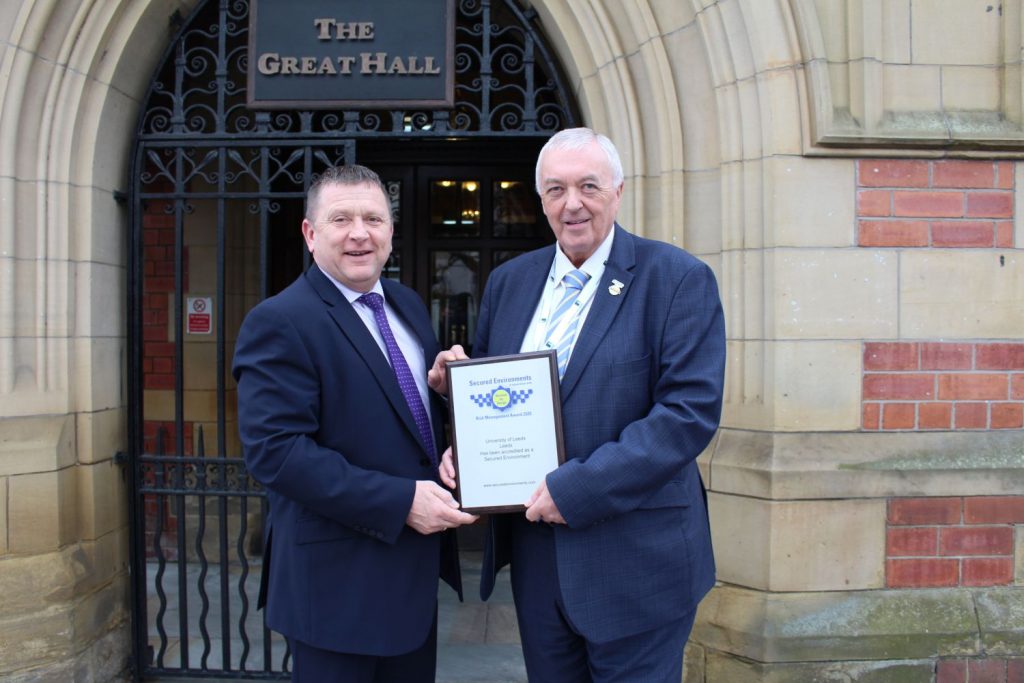 Congratulations to Malcolm Dawson BEM, Head of Security, and the rest of his team at the University of Leeds for achieving Secured Environments accreditation. It is only awarded to organisations that are able to show that they have adopted six key principles for protecting themselves against crime. This achievement demonstrates the University's strong and proven commitment to placing the safety of students, staff and visitors at the forefront of everything they do.
Operating on a large, 98-acre single site location just outside of the city centre presents the University with a complex set of challenges. The security team have adopted the six key principles of Secured Environments and maintain close working links with local partners such as West Yorkshire Police and Leeds City Council. This means that Security Services are able to proactively manage the safety of the people and property on campus.
Malcolm Dawson BEM, Head of Security, said: "Receiving this award is a superb accolade. It reflects the high calibre of work done by all members of the Security Services to embed safety across the University. We are also extremely grateful for the support we received from members of the wider University community who helped participate in the accreditation process.
"I would particularly like to thank those staff who worked tirelessly to achieve this award. Their excellent collaborative work was vital to our success. Key members of the team were Mark Bownass, Deputy Head of Security; Andy Gordon-Platt, Crime Prevention Advisor; Ian Crawshaw, Security Training Officer; PC Rebecca Hurrell, our Police Higher Education Liaison Officer; Daniel Beekman, our Administrator; and Rebecca Damment-Vezzosi, Business Improvement Officer, who ably project managed the process. Throughout the entire accreditation we were also fully supported by Joanna Hynes, Deputy Director of Estates & Facilities Services."
Dennis Hopper, Director of Campus Development, said: "This accreditation serves as a clear demonstration of the importance the University places on student, staff and visitor safety. I'm extremely proud of all the staff in the Security Services for the constant good work that this award recognises."
The Secured Environment accreditation is valid for three years, confirming our approach to security is up to a police-certified standard. The Security Services will continue to work alongside colleagues from across the University to ensure that this remains the case.