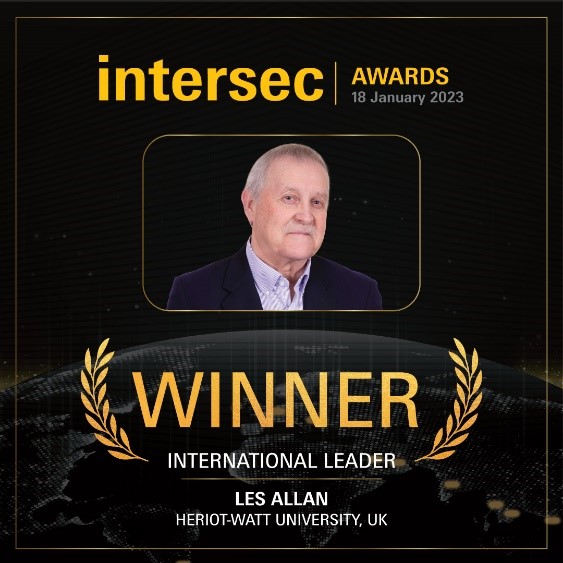 Wonderful news and sincere congratulations to Les Allan, AUCSO Chairman, who has won the International Leader of the Year Award at the awards event at INTERSEC EXPO conference in Dubai, United Arab Emirates on Wednesday 18th January.
This is the first time that this award has been won by someone in Education Security and showcases the work done by AUCSO Members globally.
Les works tirelessly dedicating his own time to his role as Chairman of AUCSO and his other Board member rolls with IFPO and NAHS.  He is also a member of the Scottish Government PREVENT Group and the Edinburgh Resilience Forum, supporting strategies for major incident responses.  He frequently uses his annual leave to attend conferences as a speaker and attend strategy meetings worldwide. Much of the development work he led with AUCSO was forming various focus groups to progress multi-initiative strategies to form business and operational plans, organise annual conferences, restructure finances, generate income and increase membership.  A prime objective Les introduced was to break down silo thinking and embrace collaborations and mutual aid support with the wider security industry worldwide. His true strengths lie within his capacity as an experienced leader to develop new approaches to modernise security and safety by breaking down barriers to collaborative thinking and using his influence to support new initiatives and strategic alliances. Les has created strategic alliances and signed Memorandums of Understanding with the following organisations. The Institute of Strategic Risk Management, The Higher Education Business Continuity Network, The Campus Protection Society of Southern Africa, The International Foundation for Protection Officers and The National Association for Healthcare Security.  IFPO and NAHS invited him to join their Boards as a strategic leader to support development and associated processes.  He also promotes mentorship programmes encouraging senior managers to support junior managers and talented individuals with career progression and succession planning.  His leadership is a clear indication of what can be achieved when experience and knowledge is shared to encourage the next generations of security leaders.
Quote from Les
"I am absolutely thrilled to receive such a prestigious award; I am very grateful for this and for all the wonderful support I have received from all of my friends and AUCSO colleagues and the wider security industry.  I see this as not only an award for me personally but also for recognition of AUCSO and Tertiary Education Security worldwide as significant contributors to global security".