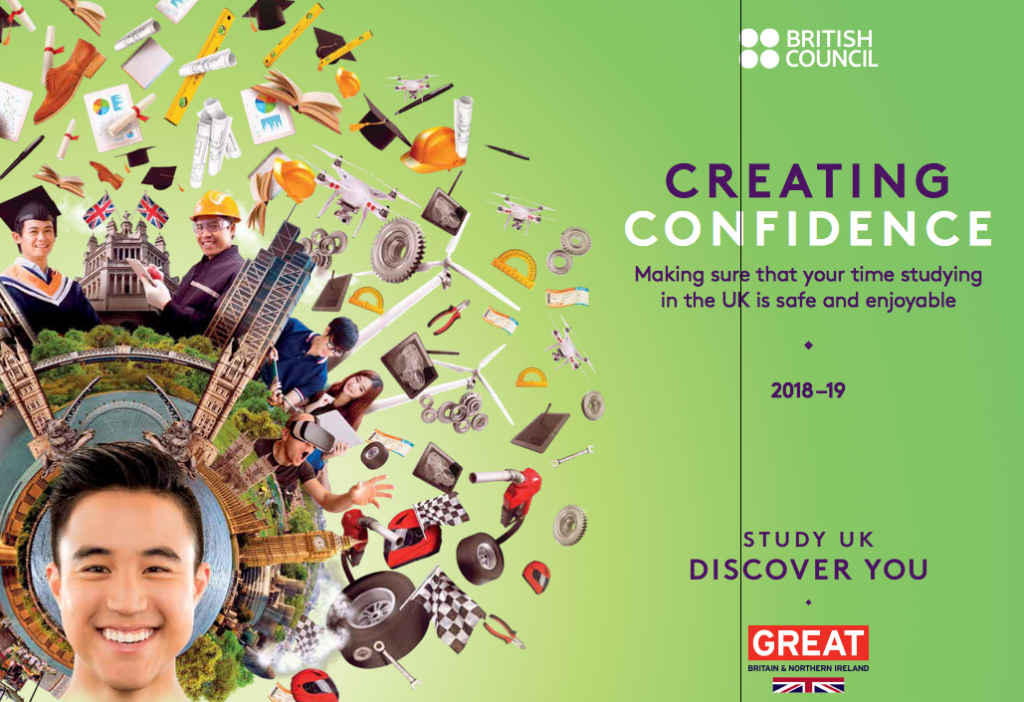 Thanks to the British Council for sharing this.
Many of us will be aware that safety is now one of the top 5 concerns when international students choose a country and place to study. Today we see the Office of National Statistics (ONS) publish their yearly report on crime figures in England and Wales (31 March 2017-18).
Many of us will be giving safety talks and meeting new international students over the coming months. The British Council have a new booklet which you can download here – Int Students Creating Confidence_Jul18 and are encouraging universities to use this. To read more and order printed copies see – Creating Confidence personal safety guide for international students: https://study-uk.britishcouncil.org/planning/advice-support 
You can also download and print off posters with QR Codes to enable students to scan the QR code and load the publication to their mobile phones. All they need to do is download a free QR App and the booklet is free to download.
https://www.britishcouncil.org/education/ihe/what-we-do/international-mobility/preparation-study-work-uk
Summary of positive action taken by the Government:
The ONS said the crime statistics may reflect a real increase in crime BUT also an improvement in recording practices.
In one of her last actions as Home Secretary Amber Rudd launched a Serious Violence Strategy. The strategy is to be backed by £40 million of Home Office funding and an Offensive Weapons Bill to ban the sale of corrosive liquids to under 18s and introduce tougher restrictions on buying knives on line.
The crime survey now has a separate assessment to police recorded offences that aims to measure people's experience of crime. 2 in 10 adults were victims of crime in the period and this proportion has fallen over the long term.
What the press are reporting:
Police recorded knife crime up 16% (40,147)
Homicides up 12% (701) (excludes incidents such as the terrorist attacks in London and Manchester)
Gun crime up 2% (6,492)
Burglaries up 6% (437,537)
Robberies up 30% (77,103)
Number of police officers falling:
143,734 – 2010
123,142 – 2017
122,404 -2018
The Serious Violence Strategy published by the Home Office April 2018 also looks at the impact of drug markets, social and economic disadvantages and social media as well as police officer numbers falling.