Congratulations to Hannah Booth, SafeGuarding and Resilience Manager, who won the 'Security Manager of the Year Award' at the Women in Security Awards in London last Thursday.  These awards are open to the wider security industry in the UK, and this is only the second time this award has been won by a university employee.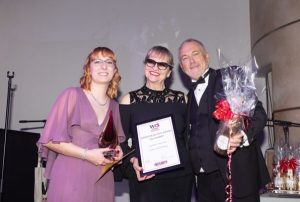 Hannah joined Heriot-Watt as a Security Officer in 2017. Within months she was moved to a Projects Officer role, recognising her skills and potential for advancement as a security leader of the future.
Five years later, Hannah has gone from Security Officer to Head of Service and is the youngest Head of Security in the HE sector. She was promoted in the middle of the pandemic and used her skills to help the Service adapt its operations. When senior management were out of action with illness, Hannah ensured that security operations continued entirely uninterrupted. Hannah supported the university community, with outreach initiatives contributing to the safe re-opening of all 5 campuses.
She has proved to be particularly effective engaging with students. She has contributed to HW's focus on student wellbeing and mental health welfare. Her attention to detail, and mature manner, has made her equally credible with senior staff.
Hannah has provided expert support to numerous universities on use of the SafeZone system, showcasing Herriot-Watt University's position as a security sector leader.
Hannah continues participation with any new training opportunities available, including a residential course at Scottish Police College studying crime prevention. She has recently completed an NVQ in Security Technology. She supports numerous focus groups and committees.
In 2021 Hannah was the first ever winner of the Outstanding Security Performance Awards new category 'Outstanding Young Security Professional of the Year'.  She qualified with Institute of Strategic Risk Management (ISRM)levels 4 & 5 and is now a certified member of ISRM.  Her progress in the security sector was also recognised by International Foundation for Protection Officers (IFPO) when they awarded her a complimentary membership.
Hannah has been a consistent support for the Association of University Chief Security Officers (AUCSO) Scotland Regional and was secretary for the group from 2017 to 2021.  In 2021 Hannah took over as Chair of the AUCSO Diversity Group and has supported formation of the Security Commonwealth Equality and Diversity Group.
Hannah said "I am absolutely thrilled to receive such a prestigious award; I had a fantastic time at the Women in Security Awards in London. I very grateful to everyone who has supported me to develop my career at Heriot-Watt.  Women in security is such an important topic and I will continue to champion this cause and I am looking forward to what new and exciting challenges I will face in the future."
Les Allan, Director of SafeGuarding Services said "Hannah is a wonderful example of a progressive professional who has an exciting career ahead of her. Age should not be an impediment to career progression, it is ability and competence that counts".