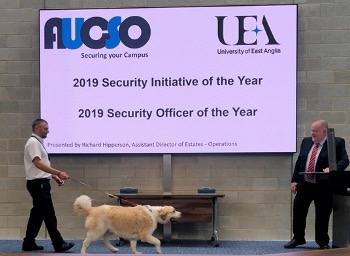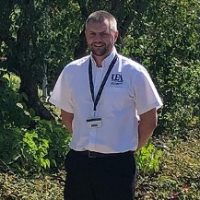 Whether on two legs or four, UEA's Security team swept the floor at the AUCSO <virtual> awards event, with Callum Smith taking home the prize of 'Security Officer of the Year For Excellent Service' and the Security Team claiming the award for best 'Security Innovation – Initiative of the Year' for the introduction of their therapy dog 'Boomer'.
Callum was recognised for his pivotal contribution to a serious police investigation which took place on the UEA campus in 2019. He went above and beyond what was expected of him, spending hours independently reviewing footage from over 300 CCTV cameras around UEA campus to support the investigation. As a Controller for the Access and Security team, Callum's role involves working in the control room, dealing with incidents on campus and monitoring the IT-based security systems which keep the campus safe and secure for students, staff and visitors.
In conjunction with information gathered from other security systems at the University, Callum compiled a detailed report of findings, cross-referenced and including detailed maps of routes used, that allowed Norfolk Police to make a significant breakthrough in the high profile investigation.
Callum beat competition from ten other entrants to win the award which is given to those who go beyond the usual expectations of the job role, perform with a high degree of professionalism, and who bring credit to the campus security community. Last year it was won by UEA Security and Access Officer, Will Ghrairi.
Richard Hipperson, UEA's Assistant Director of Estates Operations, said: "It was a very proud moment for all concerned to see Callum receive his much deserved award. Whilst this is a personal award that rightly recognises Callum's accomplishments, it is also a reflection of the quality of our security team as a whole, of which we can all be very proud."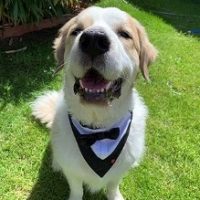 And there was further success for UEA this year, with the 'Security Innovation – Initiative of the Year' prize for the introduction to UEA campus of therapy dog Boomer Woof Brown.
Boomer is a qualified rescue therapy dog who has been working along the Security team since 2019, when Estates Health, Safety and Risk Manager, Dave Brown, whose daughter looks after Boomer when he's not on campus, brought him onto campus to help develop trust between students, staff and the Security team.
In addition, Boomer was recognised for offering emotional support to students and helping the Security team deescalate stressful situations for students and staff. He has also been involved with various departments across the University as part of mental health sessions organised by Student Services.
He's now even got his own campus ID card and email address that students and staff could contact pre-lockdown to book sessions with him in a dedicated room. Boomer's also a hit on social media, with his own dedicated Twitter account and an Instagram page with over 1,000 followers.
Dawn Daniels, Access and Security Controller, said: "Boomer's been a fantastic addition to the team. Using him as an opening for a conversation, I have seen an increase of willingness of students to approach me. This has then started a discussion which has led onto emotive topics such as their mental health and wellbeing, and allowed me to signpost them to the necessary support functions available."
Although the annual AUCSO conference did not take place this year due to the coronavirus lockdown, a makeshift ceremony took place at UEA to present Callum and Boomer with their awards, while observing social distancing guidelines.
AUCSO would like to express their thanks to our generous award sponsors, HID Global and Panasonic Business.