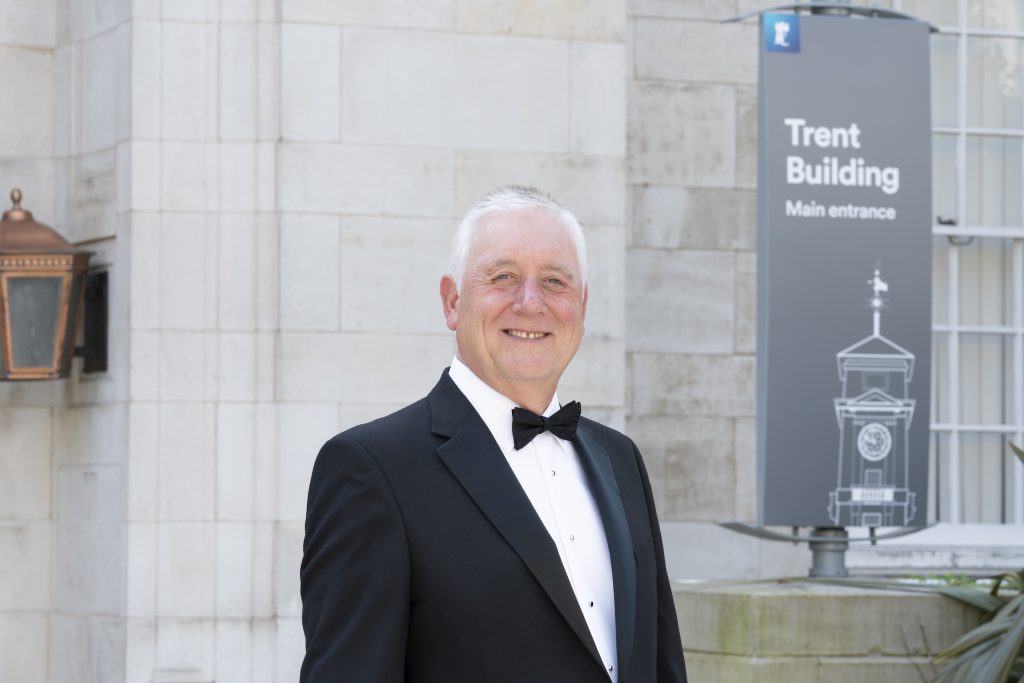 It is with some sadness that we say a fond farewell but a 'Happy Retirement' to our friend and colleague, Gary Stevens, at the University of Nottingham, who is stepping down on 31 July 2020, after almost 20 years as the Head of Security.
Stuart Croy, Deputy Head of Security (soon to be the new Head of Service), describes Gary and his work at Nottingham –
Gary took up his post at a time when crime was running at over 1,000 crimes a year, including over 150 burglaries to student rooms on campus. The Security Supervisors worked a rotating shift pattern and Officers work fixed shifts. Officers bought their own uniform, there was no proper structure and there were many complaints about the service. The security management did not form part of the thinking of the Senior University team.
Then Gary arrived!
Crime is now at an almost all time low of 240 crimes, with 131 of these as theft of pedal cycles. If it were not for the limitations on Police support this figure would be around 50 crimes lower, as the offenders the University identified could have been stopped more quickly. There is now a proper structure in place, albeit there are a few changes coming. Now there are very few complaints and much more expressions of thanks are received. Uniform and equipment are outstanding and the radio system is one of the best in the country.
Security Services are integrated into the University in ways never seen before. With COVID-19 closing the University and now as we move towards reopening, Security are at forefront of the recovery phase. This is down to Gary's leadership and the trust he has in his team.
Plus three AUCSO annual awards, is this a record?!
Gary has achieved all of this while being approachable to all staff and being engaged with all the team. He listens to them and has been a fierce supporter of them. At times I sat and wondered just how far would Gary stick his neck out? He doesn't talk about doing this and takes ownership of decisions from above.
As well as being a mentor to me he is also a friend and will be missed not only by me, but by all the Security Services team, the University of Nottingham and by the many hundreds of people who he has worked with and supported, at times when they have been in very difficult situations.
It was due to Gary that the University of Nottingham Registrar wrote a book about our Security team. It's titled True Crime on Campus, to purchase your own copy of this truly excellent book please visit https://store.nottingham.ac.uk/product-catalogue/schools-and-departments/registrars-office/true-crime-on-campus
Some less well-known anecdotes about Gary…
AUCSO Members will have some fond memories of Gary, who has always been a strong supporter of the Association and who rarely missed a meeting or the annual conference, although in years gone by Gary was known at conference to receive a round of applause for making it to the AGM! (no comment – Ed).
His dedication to car parking and obtaining payments for parking fines has seen him at Graduations making Students pay their fines before going on stage!
When the then Prime Minister Gordon Brown came to campus, Gary ended up in the wrong place during the visit and was introduced to him much to his embarrassment.
His other claim to fame on campus with Prime Ministers was sharing a conversation with Tony Blair whilst at the urinals!
He has always had an obsession with only one staple in a document and despite years of practice his typing is still like watching two chickens pecking in a farmyard.
Gary has been a supporter of all the charity work the Security staff have undertaken over the years raising thousands of pounds for good causes. One of my best memories of Gary is at one evening event Gary got everyone up to sing and high kick to 'New York, New York'.
And a last word from Stuart – "I would just finish by saying, Thank You Gary, and I wish you and Tracey all the best in your retirement".
'Here Here' our best wishes to Gary and his family, from all your colleagues at AUCSO. We will miss you!